Dr. Gail Willis, Member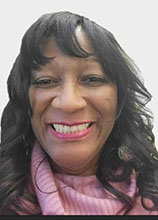 Dr. Gail Willis was appointed to the Board in March 2022. She has been an educator teaching multiple subjects to Gifted Students and English Language Learners for Los Angeles Unified School District since 1996.
Currently, Dr. Willis is a Mathematics Prevention/Intervention Specialist for the school district concentrating on student engagement instruction in mathematics.
Additionally, Dr. Willis has served as the Southern California Special Assistant at the California Department of Insurance from 2016-2018, and as President of the Southern Los Angeles Area Planning Commission.
Moreover, Dr. Willis was appointed to the Public Safety Commission in the 10th Council District in Los Angeles from 2003-2005.
She received the Outstanding Community Service Award in 2015 for Democrat of the Year, and received recognition from the Governor, U.S. Congress, California State Senate, California State Assembly, Los Angeles Mayor, and the Los Angeles City Council. Dr. Willis received the Outstanding Educator of the Year recognition from the California State Senate in 2011-2012, and the President of the Los Angeles City Council in 2010-2011.
Dr. Willis earned a Doctorate Degree in Educational Leadership, Administration and Public Policy, and a Master of Arts degree in Education from Pepperdine University, graduating Magna Cum Laude in both programs. Dr. Willis has been a member of California Teachers Association since 1996.