Kimiko Burton, Member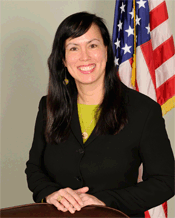 Kimiko Burton of San Francisco was appointed to the Board in 2012, and served as the Board's President for 2017. She currently serves as chief of San Francisco City Attorney Dennis Herrera's Children and Family Services Team, which represents the interests of abused and neglected children in child dependency and guardianship hearings in court and other proceedings. Recruited to the post in 2003 by Herrera for her unique combination of legal, managerial and administrative skills, Kimiko has dedicated her career to the practice of law for the public good for more 20 years.
Prior to joining the City Attorney's Office, Burton was San Francisco's first female public defender. She led the office through a period of unprecedented change, expanding leadership opportunities for women and minorities and implementing model programs for managing cases and the training of attorneys. In the five years prior to her appointment as Public Defender, Burton served as the director of the San Francisco Criminal Justice Council, where her work with community groups, grassroots organizations and public agencies secured more than $46 million in state and federal funding for innovative and effective criminal justice programs and initiatives throughout San Francisco. Burton also served as staff counsel to Johan Klehs, an elected member of the State Board of Equalization. As a Deputy Public Defender from 1991 to 1995, she represented hundreds of indigent criminal defendants in myriad felony cases through all phases of criminal prosecution including jury trials.
Burton also works on state legislation affecting child welfare with other attorneys, interest groups and legislative staff. She has also served on various workgroups for the Administrative Offices of the Courts regarding the drafting of Judicial Council forms and helping to formulate child welfare policy.
Burton serves on the Board of Directors for the John Burton Foundation for Children Without Homes, a nonprofit organization dedicated to improving the quality of life for California's homeless children and developing policy solutions to prevent homelessness with an emphasis on children in foster care and emancipated foster children.
She is a native San Franciscan and a proud graduate of Lowell High School, the University of California at Davis, and Hastings College of the Law. Prior to law school, she lived in Kyoto, Japan where she attended the Kyoto Nihongo Gakko (Kyoto Japanese Language School). While there, she taught both French and English to individual students. She currently lives with her two children in San Francisco.