Mona Pasquil Rogers, Vice President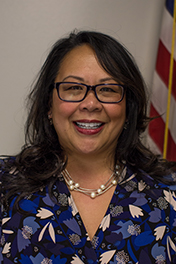 Mona Pasquil Rogers of Walnut Grove was appointed to the Board in 2019, and was elected to serve as the Board's Vice President for 2021.
Before joining the Board, Ms. Pasquil Rogers served as appointments secretary in the office of Gov. Jerry Brown from 2011-19 and was responsible for helping the governor build his administration by recruiting top candidates to serve the state. She is the first Filipino-American in California history to serve as the appointments secretary.
Ms. Pasquil Rogers served as chief of staff to California Lt. Gov. John Garamendi in 2008-09 and as acting lieutenant governor in 2009-10 after Garamendi was elected to Congress. This marked the first time a woman, Asian Pacific Islander or Filipino-American, had served as lieutenant governor of California.
She is a veteran political advisor and strategist, having directed presidential, gubernatorial, and local campaigns across the nation. Her work includes serving as political director for twice-elected California Gov. Gray Davis.
Ms. Pasquil Rogers served as deputy CEO for the 2000 Democratic National Convention in Los Angeles, California political director for the Gore/Lieberman campaign, and western political director for the White House Office of Political Affairs under President Bill Clinton. She was a member of the Democratic National Committee from 2003-09, and also worked as a strategic consultant for IBM's national, state, and local government sales team.
Her awards include a Presidential Citation to commemorate her service as the first Filipino-American lieutenant governor of California from Philippine President Gloria Macapagal Arroyo.
Ms. Pasquil Rogers founded the Asian Pacific Youth Leadership Project of California, an organization dedicated to boosting Asian and Pacific Islander youth involvement in California policy.
She holds a bachelor's degree in English from Marymount College of Kansas.